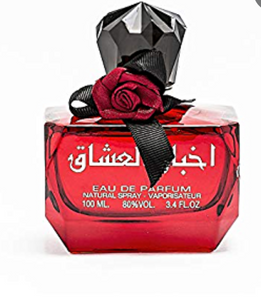 Akhbar Al Ushaq Perfume with an Elegant Bottle. A feminine fragrance with fruity, floral scents, warm vanilla and coconut, it's rich blend of Musk and Oud. Akhbar Al Ushaq begins juicy fruity with Strawberries, Raspberries, Grapes and Apples.
The sensual heart notes of woody notes of coconut and vanilla is flattering and warm. Roses, Lilies and Freesin form the flowery base.
Top Notes: Raspberries, Strawberries, Apples, Grapes Middle Notes: Vanilla, Agar wood, Coconut Base Notes: Rose, Lily, Frieze.
100 ml with a spray.